Frequently Asked Questions
The development of cavities is usually in those hard to see and reach places in your mouth. These are the areas that usually floss can only reach. Cavities are formed when the bacteria in your mouth attaches to food particles and forms plaque. The acid produced by plaque begins to eat away at the tooth if it is left long enough. First the enamel is attacked then the dentin is next, which is where the tooth's nerve fibers are located. Once the decay makes its way to the dentin a filling is need to stop the cavities progress. If it is left untouched it will eventually reach the nerve and a root canal is then needed to repair the tooth.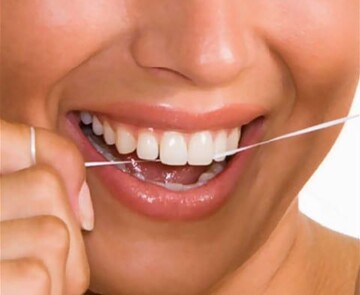 Floss is cheap, so don't be stingy! Tear off about a forearm's length to start. Wrap one end around the middle finger of one hand to "anchor" it and pick up the other end about 4-6 inches away with the middle finger of the other hand. This allows you to manipulate the floss with your thumb and fore finger. As you soil a section of floss, "reel" in another 4-6 inches of clean floss with the anchor finger as you release the floss with the other finger.
Once you get the floss past the tooth contact, move the floss up and down, perpendicular to the tooth. Never shoe-shine the teeth in a back-and-forth motion! You will either notch your teeth or cut your gums, or both!
For most people, a complete radiographic survey should be done every 3 years and a "check up" or "recall" set every 6 to 12 months. A complete set of x-rays is estimated to expose you to the same amount of radiation you get on a flight from San Francisco to Seattle.
Doctors use x-rays as an aid in diagnosing problems. Without x-rays, "seeing" the problem will be difficult if not impossible.
Tooth decay, also know as dental caries, is caused by acids which are produced by bacteria in the presence of sugar. To prevent decay bacteria, sugar and acids must be periodically removed by way of brushing and flossing. Simple tips like, don't sip sugar drinks such as soda, drink the soda straight down as constant sipping is harmful. Ask Dr. Jory for other tips to prevent tooth decay.
New patients receive a comprehensive examination which includes a screening for oral cancer, gum and bone disease, blood pressure, and systemic disorders. A routine oral exam is performed on established patients to determine any changes in dental and health status since the previous visit.

Your gum tissue is measured with a fine instrument ruler to calibrate in millimeters pocket depth between the tooth and the connective gum tissue around the tooth. Pocket depths more than 4 millimeters, could indicate disease and infection. The deeper the pocket, the greater the extent plaque bacteria collects and infection in gum disease develop.

X-rays are taken as needed.

Tooth scaling and root planing occur as needed.

Routine cleanings also include a professional polishing (Prophy) that removes only the soft sticky plaque that is above the gum line.